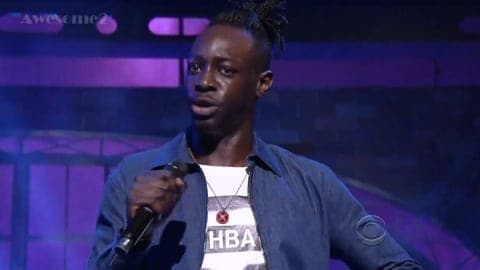 NYC-based rapper Le1f took his hit "Wut" to The Late Show with David Letterman last night, making his television debut. We've featured several of Le1f's clips here, "Wut", "Spa Day" and "Soda".
After the performance, Dave tried to cut a deal for Le1f's shoes.
Watch, AFTER THE JUMP...
Le1f has a new EP coming out on Brooklyn-based Terrible Records (known for indie bands like Grizzly Bear).
Newsweek recently asked him if he feels like the media pigeonholes him as a gay rapper:
I feel like some people do, some people don't. And I don't really care at this point. I can't be bothered [laughs]. At this point where I've gotten so much pressure, like ridiculous stuff, I don't care...The headlines and things I've gotten for some real serious press. At this point I know that I'm making the music I want to make regardless of how people talk about my music on the Internet. I don't feel pressure to make anything because of how people talk about me. I don't feel much changed by the fact that I was called a gay rapper a lot… And there are lots of people who might just only know "Wut" and that's fine. Just the fact that I have art that's out there that people are paying attention to and enjoying is rewarding enough for me to not even be thinking about whatever else is going on.