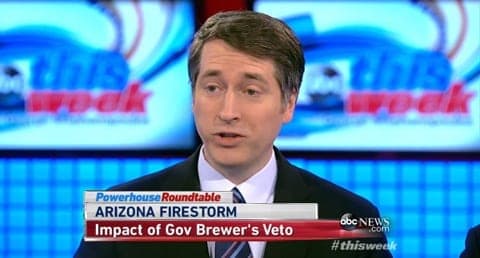 Cokie Roberts, Van Jones, and the panel on ABC News' This Week took a look back at this week's controversy over Arizona's anti-gay bill, and Jan Brewer's veto, which Rich Lowry of the National Review thought was wrong.
Said Lowry:
If you get to the facts of this, the law was the subject of a tsunami of poorly informed indignation. It was two minor changes to the Religious Freedom Restoration Act in Arizona, which has been on the books for 15 years, was modeled on a federal law, championed by Ted Kennedy, signed by Bill Clinton. And all it says is that if you're going to substantially burden someone's exercise of their religion, there has to be a compelling governmental interest at stake...
...It's different than the situation in the Jim Crow south where you had state sanctioned system of discrimination that was flatly unconstitutional. And there was a governmental interest in ensuring that African Americans could travel in the south, which you couldn't do -- if no hotel and no restaurant would serve you.

In this case, the wedding industry is not bristling with hostility to gay people. You're dealing with the occasional baker or florist who has a genuine conscientious objection. And if they do, you can find another baker or florist.
Responded Jones to Lowry's points:
You can't -- look, if you want to be a bigot on your own time, that's fine. But if you want to extend that to your LLC, to your business that you own and hold out for public, you can't point to god to excuse your bigotry.
Watch, AFTER THE JUMP...