Rachel Maddow took a look last night at recent reports of possible wreckage of Malaysia 370, and past aviation disasters and their causes as the search for the missing airliner continues. Also, why are we using such old technology to track the planes.
Watch Rachel Maddow's report which was filed before the developments mentioned below,
AFTER THE JUMP...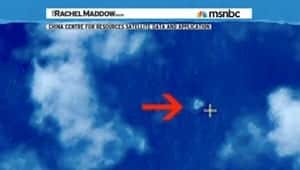 Despite the existence of images from Chinese satellites of objects thought to have potential as fragments of a plane, Malaysian's civil aviation chief said there are no signs of the missing Boeing 777 at the location photographed by the satellites:
"There is nothing. We went there, there is nothing," he told the Associated Press.

Vietnamese officials previously said the area had already been "searched thoroughly" in recent days, the AP reports.

Meanwhile, U.S. investigators believe the missing jetliner flew on for four hours once it lost contact with air traffic controllers, The Wall Street Journal reports.

Their theory is based on data from the plane's engines that are automatically downloaded and transmitted to the ground as part of routine maintenance programs.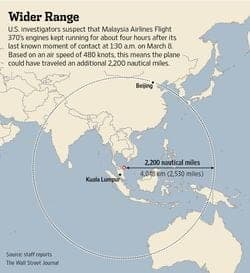 The Wall Street Journal report said the planed could have traveled an additional 2,200 nautical miles, and added a new theory:
U.S. counterterrorism officials are pursuing the possibility that a pilot or someone else on board the plane may have diverted it toward an undisclosed location after intentionally turning off the jetliner's transponders to avoid radar detection, according to one person tracking the probe.

The investigation remains fluid, and it isn't clear whether investigators have evidence indicating possible terrorism or sabotage. So far, U.S. national security officials have said that nothing specifically points toward terrorism, though they haven't ruled it out.
But the huge uncertainty about where the plane was headed, and why it apparently continued flying so long without working transponders, has raised theories among investigators that the aircraft may have been commandeered for a reason that appears unclear to U.S. authorities. Some of those theories have been laid out to national security officials and senior personnel from various U.S. agencies, according to one person familiar with the matter.
Malaysian officials denied the report from the WSJ:
Malaysia's acting Transportation Minister Hishammuddin Hussein said at a news conference that the report, citing unidentified people familiar with the matter, was "inaccurate."
Malaysian officials said they had consulted with the makers of the plane and its engines, who told them that no transmissions of any kind were received from the plane after air traffic controllers lost contact with it.
Last night, Rachel Maddow took a look at the history of causes of plane crashes with regard to the disappearance of Malaysia 370.
Watch Rachel Maddow's report which was filed before these new developments,
AFTER THE JUMP...