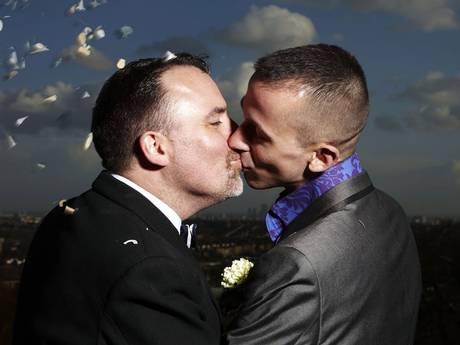 In early March we reported that Stephen Fry was set to narrate a television special called Our Gay Wedding: The Musical on the UK's Channel 4 shortly after marriage equality went into effect in Britain.
The show is airing tonight, with mysic and lyrics written by the couple being wed, composer Benjamin Till and actor Nathan Taylor, and group numbers to be performed by the couples' guests (and with several special appearances).
Watch the trailer and a couple sneak peeks, AFTER THE JUMP...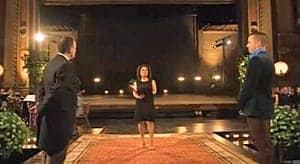 The wedding took place on Saturday at London's Alexandra Palace, Metro reports:
They tied the knot on Saturday with The Feeling singing The Beach Boys' God Only Knows as they walked up the aisle. Then Erasure's Andy Bell sang Respect. And Stephen Fry introduced the proceedings.
They add:
The mothers, meanwhile, sing a beautiful duet about their emotions as their sons came out. It's enough to melt the iciest of hearts. The songs are ridiculously catchy, too. The show's commissioning editor, John Hay, said he just can't get the tunes out of his head. 'They're real earworms,' he told Metro.co.uk.

The only part of the ceremony that had to be spoken were the declarations.

The law simply doesn't allow these to be sung. So, had the grooms said something wrong, or even just mumbled slightly, the registrar (who also sang, of course), would have had to put them right.

Afterwards Mr Till described the experience as 'beautiful and surreal' while Mr Taylor, who met his other half 12 years ago, told Metro.co.uk it was 'the most magical, intense, enjoyable, moving, emotional event anyone could ever wish for'.
Watch the trailer and a couple sneak peeks, AFTER THE JUMP...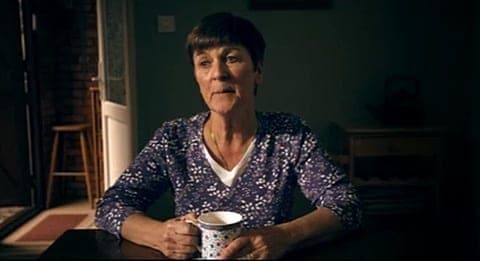 The ceremony:
The mothers sing: