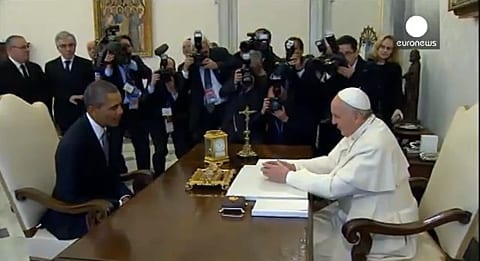 President Obama and Pope Francis met for the first time today at the Vatican, in a meeting that lasted 52 minutes. The NYT reports:
In a three-paragraph communiqué released on Thursday afternoon, the Vatican described as "cordial" the meetings between Mr. Obama and Francis, as well as a later meeting among the president, his aides and other top Vatican officials. The discussions touched on "current international themes," according to the statement, as the Vatican also expressed hope for respect for humanitarian and international law in "areas of conflict." Immigration reform was discussed, while both sides shared a "common commitment" to fighting human trafficking.

As expected, the Vatican communiqué also alluded to the ongoing dispute between American bishops and the Obama administration over provisions of the Affordable Care Act, including the mandate that for-profit corporations must provide contraception coverage in health care plans. American bishops argue that the mandate is a violation of religious freedom. On Tuesday, the U.S. Supreme Court heard arguments in a case challenging the constitutionality of the mandate.

In the communiqué, the Vatican noted that discussions were held on questions of particular relevance for the Church, including "the exercise of the rights to religious freedom, life and conscientious objection."
Watch scenes from their meeting, AFTER THE JUMP...