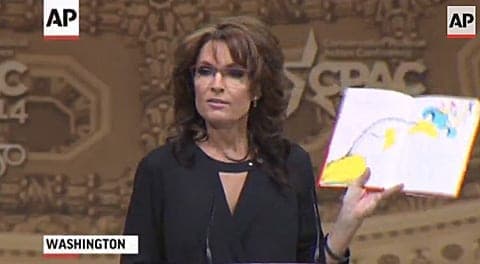 Sarah Palin took a page from Ted Cruz's 'Green Eggs and Ham' playbook at CPAC and proved she's still got the kind of knack for vapid conservative showmanship that makes wingnuts get on their feet and cheer, the L.A. Times reports:
Unburdened by the rules that keep serious politicians tethered to serious messages, her task was to toss red meat to a ravenously appreciative conservative crowd Saturday at the closing session of the American Conservative Union's annual CPAC conference.
By my count, her speech got more standing ovations than the one delivered Friday by CPAC favorite Sen. Rand Paul (R-Ky.), who won the CPAC presidential straw poll.
Watch, AFTER THE JUMP...
Here's Palin's full speech if, for some reason, that's how you want to spend your Sunday: