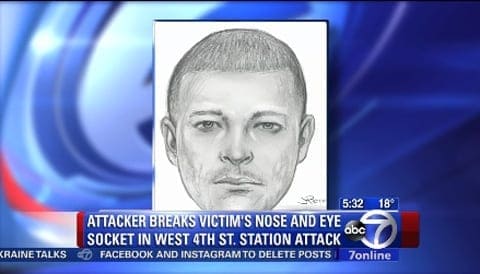 Police are looking for a man who approached a gay couple and attacked one of them on a Greenwich Village subway platform on March 2, ABC7 reports:
Authorities say the suspect sucker-punched a man after asking if he was gay.

The victim suffered serious injuries. Now, police hope a sketch will lead to an arrest.

The incident happened around 12:30 a.m. on March 2 at the West 4th Street-Washington Square subway station in Greenwich Village.

The 39-year-old victim and his partner were on the platform when the suspect approached and asked about their sexuality. When they ignored the suspect, he made a derogatory statement about gays and punched the victim in his face, causing him to fall to the ground.

The suspect then fled the station.
Watch the report, AFTER THE JUMP...