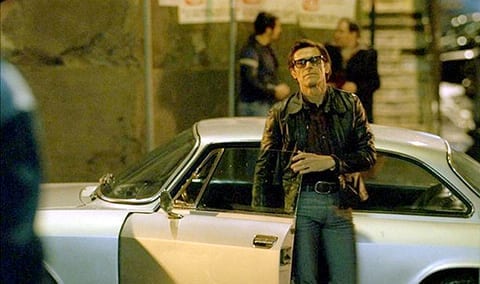 The twitter account of the Criterion Collection recently shared two images of Willem DaFoe portraying the influential Italian poet and filmmaker Pier Paolo Pasolini from director Abel Ferrara's upcoming film Pasolini.
Pasolini's body of political and artistic work made him a much celebrated and controversial figure in his native homeland. During the student revolts of the 60s and 70s, he empathized with the policemen, stating that the students were "anthropologically middle-class" and thus too over-priveleged to understand the manipulated plight of the poorer (and thus truly proletariat) policemen. Though Pasolini was openly gay for his entire career, homosexuality and queer themes do not dominate his work. Rather, his artwork also depicted Italian life in a gritty, unflattering neorealistic style that denounced the homogeneic effects of consumerism and unflinchingly depicted sex as an unromantic and sometimes torturous ordeal.
Homosexual themes found their way into three of his films:
"in Teorema (1968), where Terence Stamp's mysterious God-like visitor seduces the son and father of an upper-middle-class family; passingly in Arabian Nights (1974), in an idyll between a king and a commoner that ends in death; and, most darkly of all, in Salò, or The 120 Days of Sodom (1975), his infamous rendition of the Marquis de Sade's compendium of sexual horrors."
In 1963 Pasolini met "the great love of his life," a boy 26 years his younger named Ninetto Davoli. Though their sexual relationship only lasted a few years, the two men lived together for a long while as companions and Davoli appeared in six of Pasolini's films. In 1975, the director was murdered by being run over several times by his own car. Initially, a young hustler confessed to the crime, but recanted his story 29 years later, saying that he confessed under the duress of the real murderers who had killed Pasolini for being a "dirty communist."
Dafoe also played gay detective Paul Smecker in the 1999 film Boondock Saints. We discussed how he crafted the role during his red carpet appearance at the 2012 SXSW Film Festival.
See his interview and another picture of him as Pasolini AFTER THE JUMP…