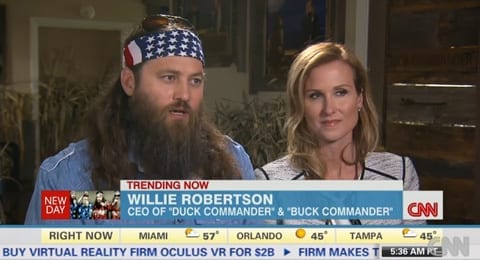 In a new interview with CNN's Kyra Phillips, Duck Dynasty's Willie Robertson discusses last December's controversy over Phil Robertson's GQ interview, in which he blasted homosexual sinners, and said they're going to hell like terrorists.
Asks Phillips: "Let's lay it out. He paraphrased First Corinthians where it talks about homosexuals, male prostitutes, drunkards, thieves, that they're all the same. Is that what you believe?"
Says Robertson: "I believe what the Bible says. And so that's what he says to put those in. You have to read the Bible and make up your own mind. God will ultimately decide that. We don't profess to be God and we certainly don't profess to be perfect because we have our own sins to deal with."

"And for him and for you, the Bible is literal, that's how it is, right?" Phillips asked.

Replied Robertson: "That's how it was said."
Watch, AFTER THE JUMP...
In related news, Duck Dynasty ratings last week dropped to a 16-month low ahead of the season finale, according to THR:
Wednesday's Duck Dynasty averaged 4.7 million viewers, the first time in over a year that the series has fallen below the 5-million mark. The new low comes on the heels of a fatigued season for the A&E juggernaut. It returned to 8.5 million viewers in January -- steadily dropping ever since.
The softer fifth season, the first to air after star Phil Robertson's incendiary remarks about gay people and the Jim Crow South, is likely as much of a victim of gravity as it is of negative publicity. Duck Dynasty has been on a slow but steady decline since last summer, when it obliterated ratings records with 11.7 million viewers.