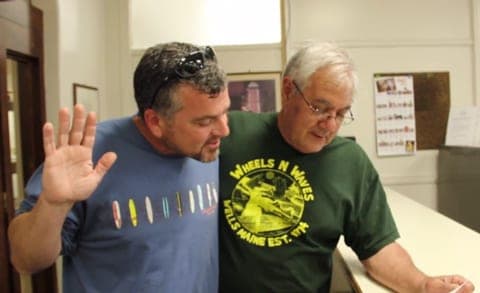 Compared to What: The Improbable Journey of Barney Frank premiered over the weekend at the Tribeca Film Festival. The filmmakers were given full access to follow Frank "everywhere but the bathroom," according to The Hollywood Reporter.
Frank and his husband Jim Ready are not too happy with the final product, according to remarks at a Q&A with producer Alec Baldwin after the film's screening, THR reports:
"I don't understand why the moviemakers would want to embarrass someone who went out of the way to let them make a movie about him," Ready told Baldwin. "That kind of bothered me." What specifically bothered Ready was the movie's inclusion of the 1989 scandal involving Frank hiring a male prostitute to be his live-in driver and housekeeper. Frank was accused of allowing his houseguest to run a prostitution ring out of his home, but after being investigated by the House Ethics Committee, he was found innocent and was reprimanded only for using his congressional office to fix his driver's parking tickets.
"I really think that was irrelevant to put that in there," added Ready. "It's embarrassing ... it's just kind of rude," Ready said in reference to the fact there were family members in the audience, including Franks' great aunt, who asked a question earlier in the Q&A. Baldwin then quickly attempted to lighten the mood by referencing his own public controversies, saying, "There's a lot of things I'd like them to leave out of my movie." He then added, after getting a laugh from the crowd, "It's not always that easy."
The filmmakers defend their inclusion of the controversy in an interview with THR.
Watch the film's trailer, AFTER THE JUMP...