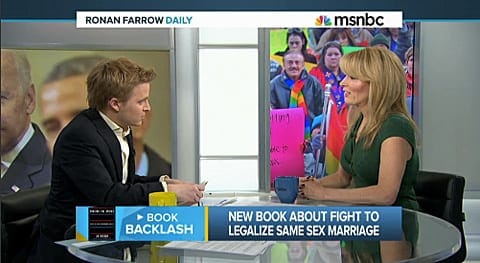 MSNBC host Ronan Farrow used a segment of his show to discuss NYT reporter Jo Becker's new book Forcing the Spring: The Fight for Marriage Equality which has come under heavy criticism for a narrative advocates have called absurd, distorted, and just plain wrong.
Becker is asked if she regrets any of the language she used, including comparisons of AFER's Chad Griffin to Rosa Parks, and starting the book with "this is how a revolution begins" as if the movement for marriage equality began when AFER took up the Prop 8 case.
Becker regrets none of it.
Watch, AFTER THE JUMP...