In December we reported on the beating of Taj Patterson, who told police he was attacked by a gang of Hasidic men on the way home from a night out partying in Brooklyn. The case was originally investigated as a bias attack.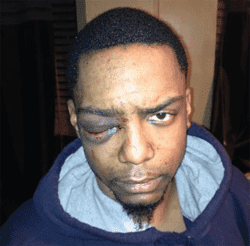 Today, five Hasidic men were arrested, the NY Daily News reports:
Aharon Hollender, 28, Abraham Winkler, 39, Mayer Herskovic, 21, Pinchas Braver, 19, and Joseph Fried, 25, were charged with gang assault and other counts, but not with any hate crimes, authorities said Wednesday.
"We simply cannot allow anyone walking on the streets of Brooklyn to be knocked to the ground, stomped and brutally beaten," said Brooklyn district attorney Kenneth Thompson.
The group, at least two of whom belonged to a volunteer patrol called Shomrim, were looking for someone who vandalized cars in the area and stopped Patterson, prosecutors said.
Even though the vandalism report was unfounded, they allegedly started pummeling the victim, authorities said.
The men reportedly yelled "Stay down, faggot" as they beat the victim. Patterson suffered a broken eye socket, a torn retina, and cuts and bruises.