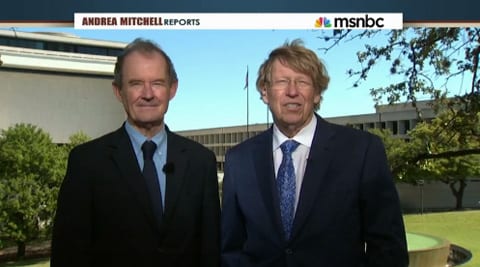 Prop 8 attorneys David Boies and Ted Olson were in Austin yesterday at the LBJ Civil Rights Summit and spoke to Andrea Mitchell about the fight for marriage equality in Virginia (the case they're currently leading) and the other cases around the country.
Watch, AFTER THE JUMP...
And here's a report on the summit from the Houston Chronicle:
"We're on the verge of establishing the equality of this group of American citizens," said David Boies, a noted attorney said during the opening session of the LBJ Civil Rights Summit. "The courts have said marriage is a fundamental right."

Echoed Theodore Olson, a former U.S. solicitor general: "This country is changing very rapidly, thank goodness," far faster than racial equality advanced in the era during which President Johnson signed into law the landmark Civil Rights Act in 1964, 50 years ago this month.

"The more than it is accepted that your sexcual orientation does not make you different," Olson said, "the more people realize gay and lesbian people are the same as everyone else."