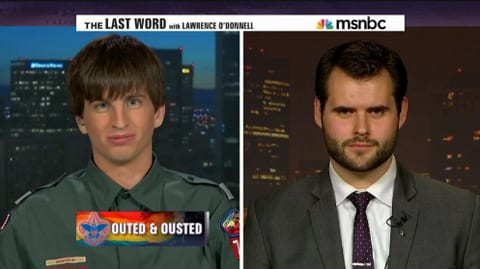 Eagle Scout Garrett Bryant was fired from his job by the Boy Scouts after being outed on Facebook, NBC News reports:
Under Scouting policy, gay youth are welcome, but gay adults are not. As a 19-year-old college freshman, Bryant knew that his chance to work again at a Boy Scout camp this summer — and hold any other future leadership position — depended on how well he hid his status as a gay man from his friends and colleagues in Scouting.
But with one Facebook post, Bryant was out — out as a gay adult in Scouting and, according to three sources in local Scouting, out of that summer job.
He thought the post was vague enough: In a moment of exuberance last month over meeting his first boyfriend, Bryant changed his Facebook status to "in a relationship," adding no comment or details. But the status change prompted revealing, congratulatory comments from non-Scouting friends who knew his sexual orientation, such as "Oh, good for you, man, what's his name?'"
Although Bryant deleted the comments it was over for him and camp leaders told him they would not hire him back to Camp Geronimo, outside of Phoenix, because they had seen the posts.
Bryant did everything he could to keep his sexual orientation private, and thought he wouldn't fall under the Scouts' discriminatory policy because of his age, but to no avail.
Bryant spoke with MSNBC's Ari Melber and Eagle Scout and LGBT ally Zach Wahls last night on The Last Word. His story was also covered by the Arizona Republic.
Watch both segments, AFTER THE JUMP...