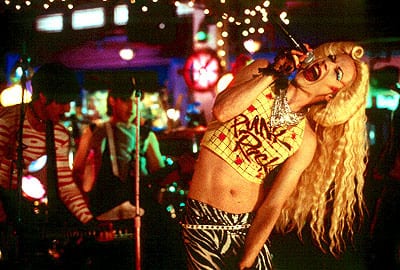 With Hedwig and the Angry Inch on Broadway receiving rave reviews, there's plenty of praise being heaped on star Neil Patrick Harris; but what of Hedwig originator, queer writer, director and filmmaker John Cameron Mitchell? One wonders how he would wear the mantle of gay icon. Would he be comfortable being tasked as a representative of the gay community?
"I get a little homophobic lately when I meet young people who just assume that this is what you're supposed to be because you're gay," he told The Advocate in 2011. "It makes me feel like I'm in some sort of frat society where you've got to do this, you've got to listen to that, you've got to wear these clothes."
But it's that non-conformist streak that makes him all the more vital. Just ask his friend, and author of The Trouble With Normal: Sex, Politics, and the Ethics of Queer Life, Michael Warner: "He is an icon of outspokenness, hope, and humor," Warner said in a NY Magazine profile of Mitchell in 2006. "The people who respond to John tend to be ... people outside the middle class who don't see themselves in the image of Will & Grace."
His career has spanned stage (in addition to Hedwig, he earned an Obie Award and Drama Desk nomination for his work in the sequel to Larry Kramer's The Normal Heart, The Destiny of Me), television and, oddly enough, voicing Sydney, the kangaroo mascot for Dunk-A-Roos. Then there's his film work, where he's brilliantly pushed boundaries and told powerful stories that speak to experiences -- gay, straight and otherwise.
See some of our favorite Mitchell moments, and share your own in the comments, AFTER THE JUMP …
Hedwig and the Angry Inch first debuted off-Broadway in 1998, with Mitchell in the starring role. Written by Mitchell and composed by Stephen Trask, the story follows the titular character (a German, transgender glam rocker) on a quest to track down the ex-lover that stole her songs. (Mitchell has said he and Trask are currently working on a sequel though the Broadway show may be that sequel – as it contains the same songs but an updated plot that has been moved forward in time from the show's original setting).
The stage show was made into a movie in 2001, also starring Mitchell. He received a Golden Globe nomination for the part.
There was much ado about the unsimulated sex in Mitchell's 2006 spectacular film, Shortbus. Yes, there's lots of graphic scenes, but it's the beautiful spirit the film captures that makes it worth the watch. One favorite scene is when Ceth (musician Jay Brannan) chats with a fictitious former mayor of New York about the AIDS crisis (allusions to Ed Koch are hard to miss). The scene does cutaway to some bare breasts, so you can find the NSFW clip here. The film won awards at film festivals in Athens, Gijón and Zurish, as well as an Independent Spirit Award.
Before NPH slipped into Hedwig's blonde wig, Mitchell worked with A-list stars Nicole Kidman and Aaron Eckhart when he directed the 2010 film, Rabbit Hole. The drama follows two parents grieving the loss of their son. "Sometimes with American awards I feel like instead of Best Acting they're going for Most Acting of the Year. Most Directing. Americans like excess," he told Next Magazine. "We were trying to get back to the Hollywood dramas that were restrained."
Recently, Mitchell appeared as Hannah (Lena Dunham)'s manic e-book editor on the HBO series Girls. You can catch a glimpse of his character in the beginning of the clip above.
What's been your favorite piece of Mitchell's work?