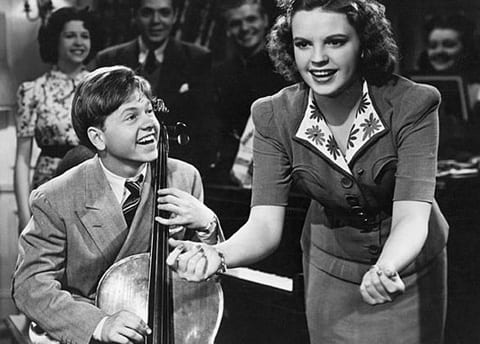 Mickey Rooney, who began as a child actor and spent eight decades in entertainment, died at 93 at home in Los Angeles on Sunday afternoon, the L.A. Times reports:
One of the most enduring performers in show business, he made his debut on the vaudeville stage in 1922 as a toddler and toured into his late 80s in a two-person stage show with Jan Chamberlin, his eighth wife. They were married in 1978 and later separated.
Jokes about his propensity to walk down the aisle were once a staple of pop culture. Even Rooney told them. "My marriage license reads, 'To whom it may concern,'" he chortled to The Times in 1981. The first and most famous of his wives was actress Ava Gardner, whom he married in 1942.
When the 90-year-old Rooney testified before Congress in 2011 about elder abuse, the actor said he spoke from personal experience. A family member who took and misused Rooney's money had left him powerless, he said.
Watch a reel on Rooney's career, AFTER THE JUMP...