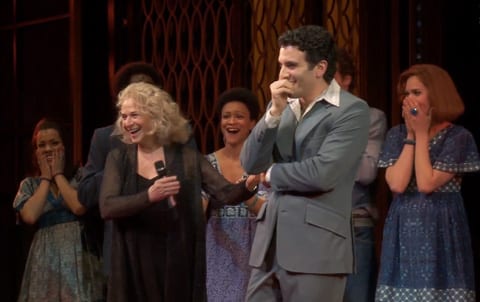 Back in January you may remember our review of Beautiful: The Carole King Musical.
The show has been playing for months yet King herself has never come to see it. The reason why has "become a confounding mystery of the Broadway season," according to the NYT.
Turns out King had to work herself up emotionally to see such a personal show in a public setting and came to do so Thursday night, in disguise:
Ms. King said she wanted to support the cast and crew, people like Jessie Mueller, who has been playing her to great acclaim. "I did it for them, because they wanted me to be here so much," she said. "I had to work up to it."
She also figured out a way to see the show incognito and insisted on complete secrecy; only a necessary few were informed.
"She had a whole scenario for how she wanted it to play out," Mr. Blake said. "If we'd asked her to do it, it never would have happened. She had to do it when she was ready."
Having watched the show with Ms. Kondor in the theater's orchestra section, Ms. King slipped backstage after "Natural Woman" and before the final song, "Beautiful."
Then, after the curtain call, as the cast began its twice-yearly appeal for Broadway Cares/Equity Fights AIDS, Ms. King came out onstage with a hand-held microphone.
Watch what happens, AFTER THE JUMP...