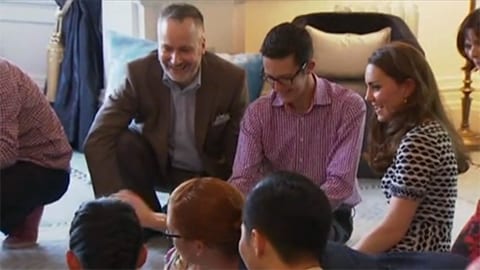 As part of their official royal tour of New Zealand, their royal highnesses the Duke and Duchess of Cambridge took time for a play date with a group of first time parents whose children are all around the same age as their son, Prince George.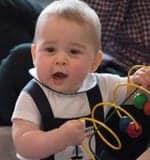 The play date was put on by The Royal New Zealand Plunket Society (a.k.a. Plunket) which provides free parental support services to more than nine in ten babies. The 10 couples invited to the play date included a gay couple and their daughter Isabella. Jared Mullen, originally from Oregon, and husband Ryan Tunstall, originally from Australia, were chosen to "represent the growing numbers of same-sex couples in New Zealand who use Plunket's parental support services," as The Telegraph reports:
Tristine Clark, New Zealand president of Plunket, said: "The parents are a spread of all the communities in New Zealand, including Maoris, Samoans, people of Chinese descent and gay couples. This is a very multi-cultural country and we wanted the Duke and Duchess to meet people from all backgrounds."
Mrs Clark said the Duke and Duchess did not specifically ask to meet a gay couple, leaving the choice of parents entirely down to Plunket.
Mullen and Tunstall spoke of their experience meeting the Cambridges shortly after the play date. From Wales Online: 
Mr Mullen said: "Isabella and George had a little play together, they were chums.
"In a way all we did was talk about babies.
"The Duke and Duchess were lovely, they were both very relaxed and we chatted about our experiences as first-time parents.
"He is a lovely little boy, very intrepid. The whole thing has been a huge privilege.
"It was lovely to meet the Duke and Duchess and share our beautiful children with them. They are both very lovely and loving parents."
You can watch a video of Prince George's play date, AFTER THE JUMP…