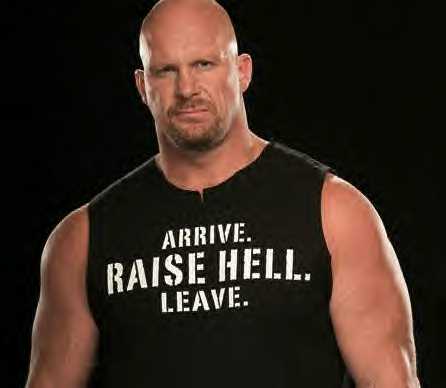 Professional wrestling isn't exactly known for being especially gay friendly - which is a bit ironic for a form of entertainment that involves two or more oiled up muscle men in spandex playing a game of "Who's on top" - and wrestlers often regard homosexuals as a punchline at best and with violent hostility at worst. One of the biggest names in pro wrestling, 'Stone Cold' Steve Austin, not only doesn't share the homophobic tendencies of some of his compatriots but actually supports gay marriage. Said Stone Cold on his podcast from last year (which is just now making the internet rounds):
I don't give a s--t if two guys, two gals, guy-gal, whatever it is, I believe that any human being in America, or any human being in the goddamn world, that wants to be married, and if it's same-sex, more power to 'em.
He also calls out religious hypocrisy and questions the "evil" of gay marriage.
OK, so two cats can't get married if they want to get married, but then a guy can go murder 14 people, molest five kids, then go to f--king prison, and accept God and He's going to let him into heaven? After the fact that he did all that s--t? See that's all horses--t to me, that don't jive with me.
Listen, AFTER THE JUMP...
You can find the full show - episode #29, "The Ranchers Way" - at PodcastOne.