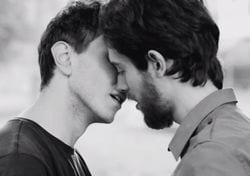 "Mothers and Sons," the mostly-critically-acclaimed, Tony-nominated play by Terrence McNally, about the AIDS epidemic's imprint on modern life, has begun a hard-hitting and tech-savvy advertising campaign. Utilizing Twitter and YouTube to spread the message that "Things Change" and "There's still work to be done," the older-skewing show appears to be targeting younger audiences while imparting an important message for social media users.
On Thursday night, the @MothersSonsBway Twitter handle began to spout off homophobic and angry messages about the LGBT community and modern-day strides toward equality in politics. All of the messages were taken directly from other Twitter handles, and thus echoed the sentiments of real people around the world. The charade went on for an hour before it was explained in this tweet:
The tweets, and fan's online responses, have been compiled here.
A new video advertisement has also been released starring the show's lead actress, Tyne Daly. This is "A Show About Now," it touts.
Watch the ad and let us know what you think, AFTER THE JUMP...