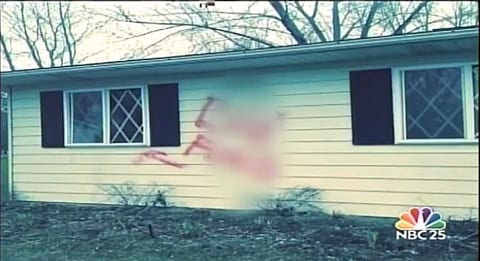 An openly gay teen in Vienna Township, Michigan, has been targeted with hate graffiti painted on his home, NBC25 reports. The home of 16-year-old Levi Peabody was tagged with an anti-gay slur and an arrow pointed to his bedroom and the family believes that Peabody's classmates are behind it.
"I want the kid that did this to get caught," says Levi's mother.

The Peabodys have even installed a security camera in their bedrooms to try and catch the culprits but more importantly to let people know, they will not stand for this.

"I mean it's disgusting," adds Melanie Peabody.

The Genesee County Sheriff's department says they're working with Clio school officials to identify potential suspects through hand writing samples.
Watch the report, AFTER THE JUMP...