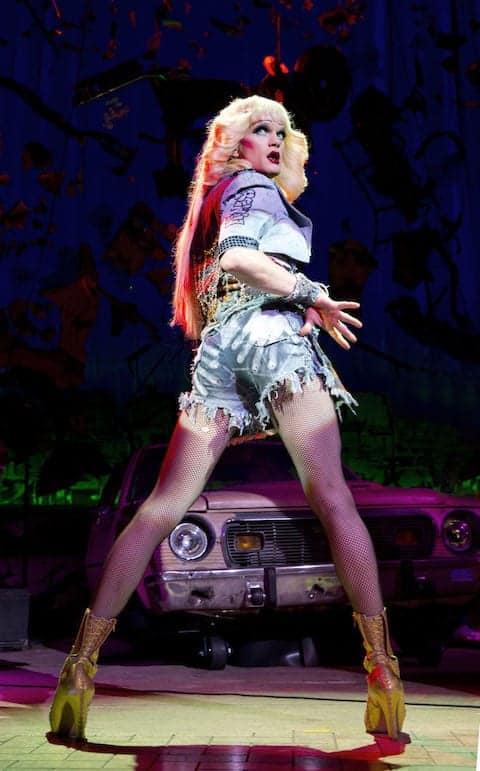 BY NAVEEN KUMAR
Nominees for the 68th annual Tony Awards were announced on Tuesday in a lineup that favors familiar tunes, revitalized classics and breakout performances by new and famous faces.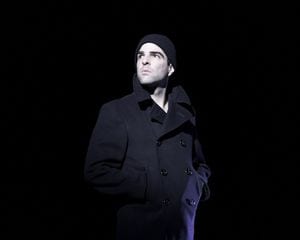 Some of the season's biggest Hollywood names were overlooked, most notably in two star-driven revivals of American classics: Denzel Washington (A Raisin in the Sun) and Zachary Quinto (The Glass Menagerie) were both conspicuously passed over in productions otherwise showered with nominations, including for other cast members and leading actresses LaTanya Richardson Jackson and Cherry Jones. Daniel Radcliffe was unrecognized yet again in his third appearance on Broadway, for his performance in The Cripple of Inishmaan.
Surprising total shut outs were highbrow double bill Waiting for Godot and No Man's Land, starring stage and screen faves Ian McKellen and Patrick Stewart, and Will Eno's off-center new play The Realistic Joneses. Though it boasts a full roster of stars, with Michael C. Hall, Toni Collette, Tracy Letts and Marissa Tomei all sharing the stage—it perhaps proved too inaccessible to appeal to voters.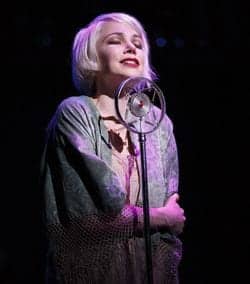 Other, more expected A-list marquee snubs included Betrayal, starring Daniel Craig and Rachel Weisz and Romeo and Juliet with Orlando Bloom, both early season offerings that enjoyed big business but received lukewarm critical reception. Michelle Williams was also passed over for her turn as Sally Bowles, as was the Roundabout's remounting of Cabaret in the Best Revival of a Musical category, which it won in 1998 (Alan Cumming was not eligible this time around, having won for his performance the same year).
A Gentleman's Guide to Love and Murder received the most nods, and it's the only nominee for Best Musical that features a fully original score. Others, including Beautiful: The Carole King Musical and After Midnight, are packed with popular hits from other eras.
Disney's latest cartoon-inspired offering Aladdin swooped in for the final Best Musical spot, nabbing it from other contenders who might have benefitted from the critical cache and box office juice, including Bullets Over Broadway and The Bridges of Madison County (which today announced it will close May 18). Though Bullets snagged a nomination for Best Book, begging the question of whether Woody will show at the Tonys (not likely).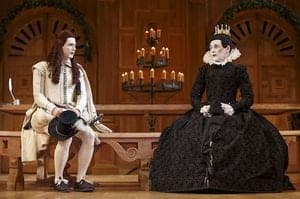 Two of five Best Play nominees, written by preeminent LGBT playwrights Terrence McNally (Mothers and Sons) and Harvey Fierstein (Casa Valentina), tangle with issues of sexuality, while half a dozen men in the acting categories are nominated for performing in women's clothing—including Samuel Barnett and Mark Rylance for the Globe Theatre's all-male production of Twelfth Night, and last year's Tony host Neil Patrick Harris as the title character in Hedwig and the Angry Inch.
Leading stars in men's clothing are easily recognized from their work on screen, including Bryan Cranston (All the Way), Tony Shalhoub (Act One) and Chris O'Dowd (Of Mice and Men). On the musical side, leading tough guys Andy Karl (Rocky) and Ramin Karimloo (Les Misérables) round out the pack with two gents from A Gentleman's Guide, Jefferson Mays and Bryce Pinkham.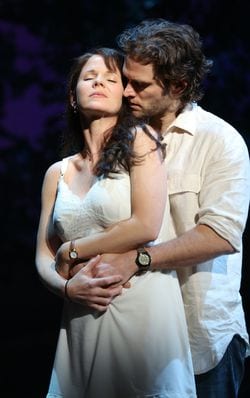 Women turned up underrepresented in creative categories, with just one of eight nominated directors (Leigh Silverman for Violet) and none among the writers of new plays and original scores. In the performance categories, the same week they received nominations, two Broadway favorites—Estelle Parsons in The Velocity of Autumn and Kelli O'Hara in The Bridges of Madison County— saw their shows post closing notices due to slow box office.
Other nominees for leading roles include previous winners Sutton Foster (Violet), Idina Menzel (If/Then) on the musical side and Tyne Daly (Mothers and Sons) and Audra McDonald, nominated in the play category for her performance as Billie Holiday in Lady Day at Emerson's Bar & Grill (Ms. McDonald would become the first ever to win in all four acting categories). Two other leading ladies nominated for their performances as iconic musicians, Jessie Mueller (Beautiful) and Marie Bridget Davies (the shuttered A Night with Janis Joplin), were among the seasons biggest breakthroughs.
The Tony Awards, hosted by Hugh Jackman, will be broadcast on CBS from Radio City Musical Hall on Sunday, June 8.
Recent theatre features…
Alan Cumming and Michelle Williams Open On Broadway in 'Cabaret:' REVIEW
Daniel Radcliffe Opens on Broadway in 'The Cripple of Inishmaan:' REVIEW
James Franco and Chris O'Dowd Open On Broadway In 'Of Mice And Men:' REVIEW
Harvey Fierstein On Straight Men In Stockings And His New Broadway Play 'Casa Valentina': INTERVIEW
Woody Allen's 'Bullets Over Broadway' Musical Starring Zach Braff Opens On Broadway: REVIEW

Follow Naveen Kumar on Twitter: @Mr_NaveenKumar (photos:joan marcus, michael j. lutch)