If you're like me, you probably think Michael Fassbender and James McAvoy would make a really great couple. They could even have a cute "couple" name like Fassvoy or McAssbender.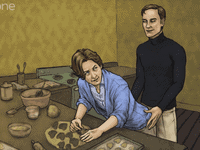 Okay, nevermind, scratch that idea...
Regardless, a good portion of the internet also thinks the two belong in a relationship, as there appears to be a great deal of fan-made slash fiction about the dream couple and their wonderfully domesticated life together.
As guests on Friday's episode of The Graham Norton Show, the X-Men: Days of Future Past stars were treated to the very best selections of this fanfic, with the duo having a fun time exploring the dynamics and scenarios of their hypothetical relationship.
Check it out, AFTER THE JUMP…