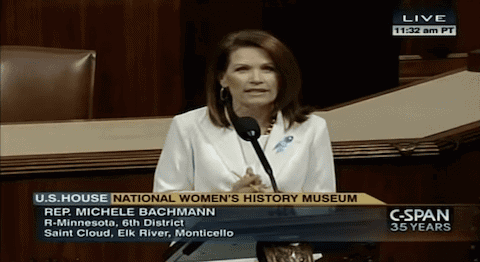 Continuing her modus operandi of conservative craziness, Michele Bachmann took to the House floor to speak against the National Women's History Museum to be built on the National Mall.
Said Bachmann:
I believe ultimately that this museum, which will be built on the National Mall, on federal land, will enshrine the radical feminist movement that stands against the pro-life movement, the pro-family movement, and the pro-traditional marriage movement.
After her "cursory review" of the museum's online exhibits, Bachmann is convinced that the museum is not only redundant given that there are already 20 National Women's History Museums across the nation, but will also become an ideological shrine to abortion.
Bachmann was in the under 10% that voted against the creation of the museum and the House overwhelmingly passed the Commission to Study the Potential Creation of a National Women's History Museum Act of 2013 (H.R. 863) by a vote of 383-33.
You can watch Bachmann make her stand AFTER THE JUMP...