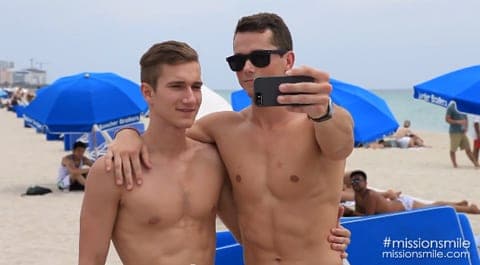 Gay vloggers Mark E. Miller and Ethan Hethcote set the Guinness World Record for the most selfies (355) taken in one hour over the weekend in Miami Beach, in a project with Mission Smile.
Naturally, it was all captured on video. Watch the clip, AFTER THE JUMP...
The record-breaking task might sound easy, but there were rules placed to achieve the highest level of self-indulgence.
"The way this works is it's not just one person taking photos of themselves, but they have to have a different person in each photo that they take," explained Official Guinness World Records adjudicator, Kimberly Partrick. "The challenge is about getting engagement from the crowd wherever you are."
And boy, did she mean challenge.

"I'm truly out of breath right now," Miller, a recent graduate from Ball State University said after running from beach-dweller to beach dweller, taking selfies with each and every one of them from 12th Street all the way to 9th.
Watch, AFTER THE JUMP...
For more of Mark and Ethan's videos, click HERE.