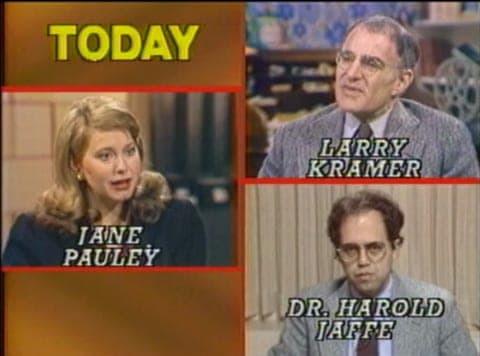 Those of you who caught last night's premiere of The Normal Heart on HBO will want to watch this 1983 interview Larry Kramer did on the Today show with Jane Pauley during the earliest days of the crisis.
The world clearly, tragically, had no idea what was coming.
Watch, AFTER THE JUMP...
What did you think about The Normal Heart?
Deadline reports on the film's ratings:
HBO Films' The Normal Heart delivered a solid 1.4 million viewers across two plays Sunday night. Debuting nearly three decades after Larry Kramer's play premiered off-Broadway, the Ryan Murphy-directed project premiered at 9 PM with an average of slightly less than 1 million viewers tuned in; an additional 434,000 thousand watched at 11:15 PM. That puts it fifth in viewership among the 17 HBO Films that have premiered on the network since 2010.