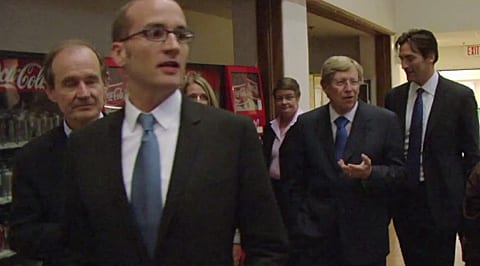 Journalist Lisa Keen called Jo Becker's book Forcing the Spring "hell-bent on making Human Rights Campaign President Chad Griffin and conservative icon attorney Ted Olson into the white horse heroes of an upcoming Hollywood docu-drama about How the Marriage Equality Movement was Won."
But in fact, there is such a Hollywood docu-drama, and it's called The Case Against 8, which might be seen by some as a companion, or perhaps an alternative, to Becker's controversial and highly-criticized retelling of the events in the Prop 8 case.
In any case, The Case Against 8 won the Documentary Directing Award at Sundance and took home an Audience Award at SXSW. It's opening in limited release in June and airing on HBO on June 23.
Watch the new trailer, AFTER THE JUMP...
If you enjoyed this post, PLEASE consider SHARING it on social media.
Also, please LIKE us on Facebook, and follow us on Twitter, and Instagram.