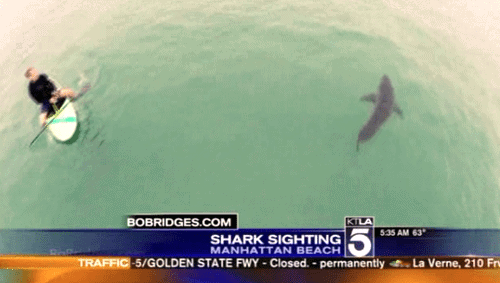 A baby great white shark paid a surprise visit to paddleboarders at Manhattan Beach earlier this week. Local professional photographer Bo Bridges captured video of the shark with the help of a drone camera.
KTLA 5 reports: 
Bo Bridges, who has lived in the area for the past 14 years, shot the video on Monday morning after he spotted the juvenile shark while he was out paddleboarding with his friends.

The shark was about 100 feet off of the coast of Manhattan Beach, he said.

"Once you see it, your knees kind of go weak if you're on a paddle board…the fear hits first, and the excitement kind of gets to you too, and then the curiosity as well, so you just start to follow them a little bit," Bridges told KTLA.
Watch the video, AFTER THE JUMP...