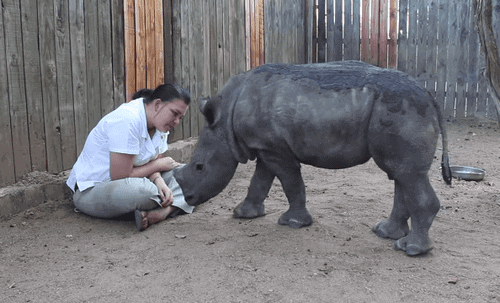 A team of specialists is nursing a baby rhino that was orphaned when its mother was poached earlier this year. The Hoedspruit Endangered Species Centre is accepting donations online to help with the process of healing the baby they've named Gertjie.
HESC wrote on their blog last month:
We took custody of a very special animal last night. A 3 month old baby rhino, anticipated to have been born around the 19th February, was brought to the HESC after being found next to his dead mother who had been tragically and brutally poached for her horn.

It was a devastating sight, as the tiny animal would not leave her side, and was crying inconsolably for her.
The HESC reports that "between 2007 and 2011 rhino poaching increased by a staggering 3346%." They say that rhinos are poached at a rate of two per day to meet the growing demand from Asia where it is used as a medicine. According to them, rhinos will be extinct by 2025 if they continue to be poached at the current rate.
To find out more about the incredible work of this organization or to help finance them, check out their blog. 
Watch some videos of Gertjie the baby rhinoceros, AFTER THE JUMP...