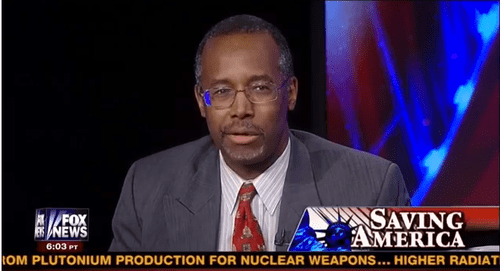 You may remember Fox News contributor Ben Carson for his comments comparing homosexuality to sex with animals and pedophilia. He's back with another head-scratcher of a theory, and this one is decidedly more elaborate. Gay marriage is a Marxist plot to impose a 'new world order'.
Video is AFTER THE JUMP, but the logic is tough to follow on a first listen, so I've transcribed below to help you follow along. 
[America's] strength lies in our unity. And there are so many forces that are there to try to destroy that unity —the only way to bring America down. If you look in a lot of writings of the Neo-Marxists when they talk about the New World Order, they say there's only one stick in the mud: how do you get [America] out of the way and how do you change them? They said there were two things: their Judeo-Christian faith, and their strong families.
Here's the gist: America's "strong family values" and "Judeo-Christian faith" have made it the final pin to fall in the "New World Order" conspiracy, where a global power snatches control of all the world's countries. Carson was just announced as the keynote for Pacific Justice Institute; an organization recently classified a hate group by the Southern Poverty Law Center. It bears stating that this is not the first time Carson has done a keynote for a group of such distinction.
More: