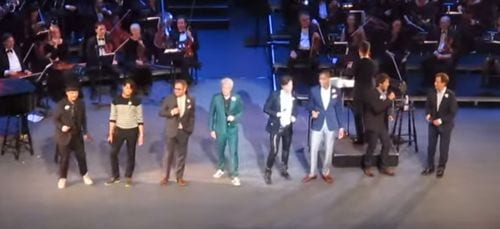 A terrific combination of famous male singers joined forces at the "If I Loved You: Gentlemen Prefer Broadway" concert last weekend, serenading the audience with a wonderful rendition of the "Grease" classic "Summer Nights."
John Travolta and Olivia Newton John were not present, but Boy George, Rufus Wainwright, David Byrne, Josh Groban, Steven Page, Brennan Hall, and Ezra Koenig handled the material just fine (including some superb falsetto work). I only wish Stockard Channing had made an appearance...
Check out the fun, AFTER THE JUMP...