A group of San Francisco and California officials have signed a letter to San Francisco Archbishop Salvatore Cordileone, urging him to reconsider his participation in NOM's 'March for Marriage' on June 19 in Washington D.C., according to a press release from the National Center for Lesbian Rights: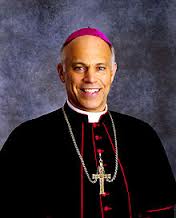 Lt. Governor Gavin Newsom, State Senator Mark Leno, State Assemblymember Tom Ammiano, San Francisco Mayor Ed Lee, San Francisco Treasurer Jose Cisneros, and Supervisors David Campos and Scott Wiener are among the more than 70 leaders and organizations calling on Archbishop Cordileone to reconsider his participation in the National Organization for Marriage's march and rally and, instead, "join us in seeking to promote reconciliation rather than division and hatred."

"We respect freedom of religion and understand that you oppose civil marriage for same-sex couples," write the diverse group of signers, which includes the Episcopal Bishops of California and Wisconsin, the Very Rev. Dr. Brian Baker, Dean of the Cathedral at Sacramento's Trinity Cathedral; Rev. Will McGarvey, Executive Director of the Interfaith Council of Contra Costa and Community Presbyterian Church; Rev. Dennis W. Wiley, pastor of the Covenant Baptist United Church of Christ; Rev. Dr. Karen Oliveto Sr., Pastor of Glide Memorial UMC; and Rabbi Michael Lerner, editor Tikkun Magazine. "Many people of faith who have different opinions on the question of civil marriage for same-sex couples have come together in respectful dialogue and discernment to discuss those differences. Sadly, the actions of NOM and its invited speakers push us farther apart rather than bringing us together."

The signers point to NOM's "long and well-documented history of publishing material that connects homosexuality with pedophilia and incest and falsely suggests that gays and lesbians are trying to 'inculcate children.'" The Family Research Council, which is co-sponsoring the event, has been designated a hate group by the Southern Poverty Law Center. The letter points out that the actions of NOM and several of the invited speakers contradict the Catechism of the Catholic Church, "which states that lesbian and gay people 'must be accepted with respect, compassion, and sensitivity. Every sign of unjust discrimination in their regard should be avoided.'"

The letter comes as Catholic bishops are being urged to expand their priorities, with Pope Francis slated to convene a meeting of senior clerics this fall to reexamine issues such as same-sex marriage. A recent poll by Public Religion Research Institute found that 57 percent of Catholics favor allowing gay and lesbian couples to marry.
There is also a petition asking Cordileone not to go.
Among those participating are Rick Santorum and Mike Huckabee.
Cordileone, as you may recall, was a central strategist in the campaign to pass Proposition 8, and has more recently said that understanding gays "tenderizes us."
Read the letter, AFTER THE JUMP...
ArchbishopLetter 06102014 Final 340