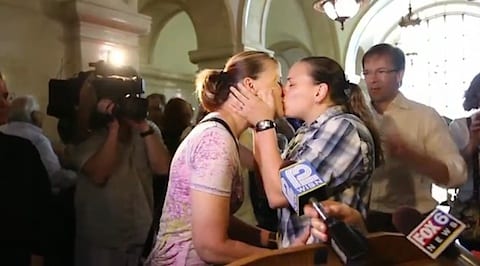 More than 120 marriage licenses were issued and dozens of couples married last night by Milwaukee and Dane County officials after U.S. District Judge Barbara crabb struck down the state's ban on gay marriage, the Journal Sentinel reports:
By the end of Friday night, Milwaukee County had issued about 68 marriage licenses. All of the couples who obtained them were immediately married in or just outside the courthouse.

The weddings were to continue at the Milwaukee County Courthouse from 9 a.m. until 1 p.m. Saturday. Also, the register of deeds office was to be open to provide certified birth certificates, which are necessary to obtain a marriage license. In addition, the clerk of courts office will be open for those who need copies of divorce papers to obtain a license...
...An official at the Dane County courthouse said it issued 61 marriage licenses Friday. The courthouse will be open from 9 a.m. to 5 p.m. Saturday.
...While marriage ceremonies continued late Friday night, Milwaukee County Circuit Judge David Borowski said it was still unclear if clerks were authorized to issue licenses.

He said he planned to follow the legal developments surrounding Crabb's decision. "From the standpoint of circuit court judges, we are bound to uphold the law, not make the law," he said. "If it becomes clearer that the court of appeals does not issue a stay, it would appear Judge Crabb's ruling is the law of the land in Wisconsin."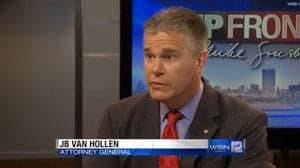 Attorney General JB Van Hollen filed a request for an emergency stay of Crabb's ruling, the Daily Page reports:
Van Hollen said he was filing for an emergency stay "in light of the decision of some county clerks to issue marriage licenses to same-sex couples." Clerks in Dane County and Milwaukee County had each prepared for a ruling overturning Wisconsin's same-sex marriage ban and were ready for the couples that started lining up late Friday.

"We have reviewed the judge's ruling," Dane County Clerk Scott McDonell said to media before the first couple received their marriage license. "It overturned the constitutional amendment banning same-sex marriage. It did not instruct my office or any other office to not issue marriage licenses, so we plan on staying open until 9 tonight and from 9 to 5 tomorrow.

In a statement, Van Hollen said there was precedent for receiving the injunction he sought.

"The United States Supreme Court, after a referral from Justice [Sonia] Sotomayor, stayed a lower court's decision striking down Utah's ban on same-sex marriage."

Van Hollen had already asked Crabb to immediately stay her ruling should she find Wisconsin's same-sex marriage unconstitutional. But she did not do that on Friday, saying in her decision that she would address it after the plaintiffs and defendants in the cases filed briefs on the matter. She imposed a June 16 deadline for those briefs.
Pamela Dietzler and Jill Winkler (above) were among the gay couples married at the Milwaukee County Courthouse on Friday following Crabb's ruling.
Watch the joy happen and more coverage of the marriages, AFTER THE JUMP...