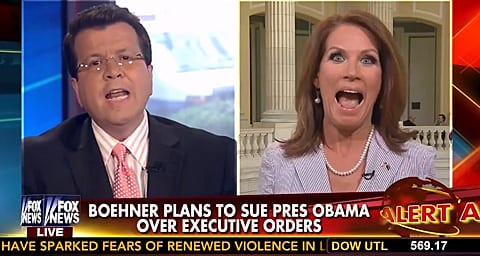 Neil Cavuto interviewed Michele Bachmann on Wednesday over a "waste of time" lawsuit planned by John Boehner and House Republicans against President Obama for using executive power on issues that they have blocked in Congress.
Said Cavuto, who grew more and more outraged at Bachmann as the discussion went on: "Where was your rage when Democrats were going after President Bush on the same use of executive orders, because I think you knew then that that was a waste of time then and I think you know in your heart of hearts this is a waste of time now."
"You're being silly," Cavuto asserted.
Watch, AFTER THE JUMP...