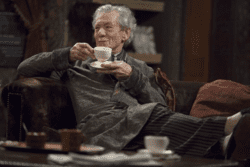 Vicious, a British ITV sitcom starring out gay actors Sirs Ian McKellen and Derek Jacobi, is finally making its widespread US debut on PBS tonight. Originally entitled Vicious Old Queens, the show features the two knighted thespians as Freddie and Stuart, an older gay couple embroiled in a decades-long love/hate relationship.
A deviation from other contemporary programming aimed at LGBT audiences like Modern Family, Looking, or True Blood, Vicious is more or less a return to the traditional Brit-com formula, relying on cheeky innuendo and absurdly high-brow casting decisions. Vicious premieres on local PBS affiliates across the country tonight at 10:30 P.M. EST.
Watch a promo for the show, AFTER THE JUMP...