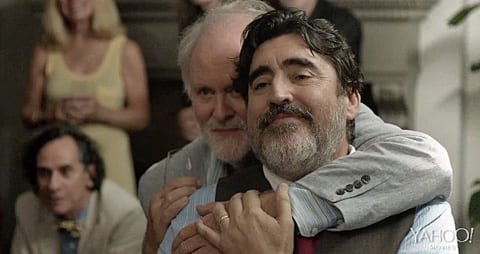 Back in January, after seeing a Sundance screening of Ira Sachs new film Love is Strange starring John Lithgow and Alfred Molina as a just-married gay couple whose honeymoon is complicated when circumstances force them to temporarily separate, our film critic Nathaniel Rogers wrote:
Lithgow and Molina have great chemistry, never once feeling less than authentic or desexualized as elderly gay men with a forty-year history. Their lived in duet helps the film transcends the labels I've already placed on it here; it's a gay film, sure, but better than that it's a fully human one. Love is Strange has a lot more than just gay marriage with expansive ideas about aging, support networks and, brilliantly as it winds down, what the young gain from the old -- concerns that can't be reduced by sexual labels. It fully earned the copious tears and standing ovation that greeted its premiere here in Utah.
Now the film has a full trailer. Watch it, AFTER THE JUMP...
And if you missed the behind-the-scenes set shot of Cheyenne Jackson and Manny Perez in their cop uniforms that we posted last September, check it out HERE.