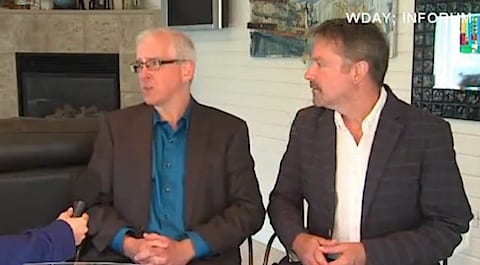 North Dakota was the last state with an unchallenged ban on gay marriage before Friday, when seven couples filed suit in U.S. District Court in Fargo, the Guardian reports:
The legal move completes a sweep of all 31 states that still have laws in place restricting marriage to a union of one man and one woman.
The lodging of the final lawsuit in North Dakota underlines the judicial wind of change that has swept America since the US supreme court introduced federal recognition of gay marriage in a landmark ruling last June. The nation's highest panel of judges struck down key parts of the federal ban, the Defense of Marriage Act, or DOMA.
"Since the supreme court's historic decision, there hasn't been a single state same-sex marriage ban that has survived a court challenge. It really is only a matter of time before marriage equality is the law of the land nationwide," said Charlie Joughin, spokesman of the Human Rights Campaign, the largest LGBT group in the US.
Watch two of the plaintiff couples talk to KRDO, AFTER THE JUMP...