In a ceremony in Pittsburgh, Pennsylvania's City Council chamber over the weekend, Mayor Bill Peduto officiated the marriages of 19 gay and lesbian couples, KDKA reports: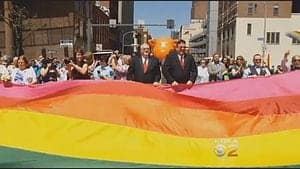 Each couple repeated their vows and exchanged wedding rings, making their marital bliss official.
The couples posed for pictures on the steps of the City County Building, then celebrated by hoisting the rainbow flag.
"It feels great, you know," said Sameer Samudra. "It's not just about same-sex marriage, it's about marriage."
The celebration continued with all 19 couples leading the annual gay pride parade through downtown.
"I never though Pittsburgh would, we never thought Pennsylvania, we never thought the country, I didn't dream of marriage," said newlyweds, Cindy Neitz and Christine Allen-Neitz. "I didn't think itwas possible in my lifetime."
Watch KDKA's report, AFTER THE JUMP...