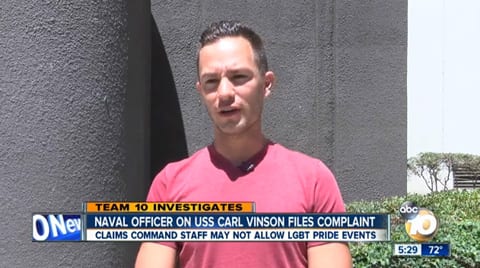 The repeal of Don't Ask, Don't Tell has made life easier for LGB folks in the military, but it certainly isn't "easy", and trans people still suffer the brunt of it all. The command staff of San Diego-based aircraft carrier USS Carl Vinson have engaged in passive-aggressive attempts to undermine any observations of LGBT Pride Month, something that the sailors explicitly requested. In addition to dragging their feet on signing off on the event even though the month is half over, regressive conditions were implemented which included removing any language of "gay" or "lesbian" over the loudspeaker, and "transgender" was to be removed from all posters altogether, conceivably justified by the fact that the military still considers being transgender a psychological disorder.
Several sailors have filed complaints, but the Navy released a statement saying that they have not confirmed any complaints. The sailors have responded to their command's lack of action with a course of action of their own: if they are denied an event, they will unfurl a rainbow flag at the pier and have an impromptu event of their own.
You can watch ABC 10's report on the issue AFTER THE JUMP...