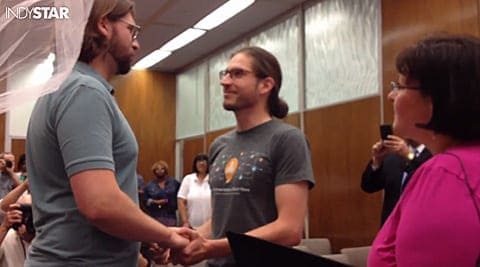 Craig Bowen and Jake Miller were wed in Indianapolis, Indiana shortly after today's ruling by U.S. District Judge Richard young striking down the state's gay marriage ban.
Bowen and Miller plan to celebrate their marriage with a champagne toast this afternoon. The couple met eight years ago through a mutual friend, Bowen said, gazing at Miller.
"Our parents don't know yet, so they might be a little mad at us," Miller said with a chuckle. "I sent Craig a text and said 'Hey, do you want to get married today?' "
Craig said yes, and they headed to the county clerk's office, where they were the first same-sex couple to arrive.
"I love you," Miller told Bowen after their ceremony.
Watch (autoplay, AFTER THE JUMP...