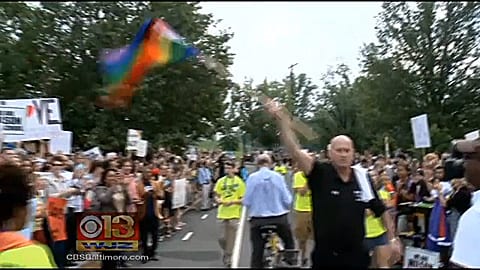 Wilson High School Principal Pete Cahall, who came out as gay to his students at the D.C. school's annual Pride Day last week, led hundreds in a counterprotest of the Westboro Baptist Church today. The WBC had come to picket the school because of its strong support for LGBT students.
WJZ reports:
More than 2,000 students and teachers took part in the counter-protest.
"Education breeds tolerance and hatemongers breed ignorance," said a participant.
"When I was in high school, we really didn't include the LGBT community but these students are insisting that we do that and I just couldn't be prouder," said a participant.
"I just couldn't imagine what happened today in my wildest dreams," said Cahall.
The rally lasted about an hour. Police escorted members of the Westboro Baptist Church from the area.
Four hundred members of the surrounding community also showed up at the students' event
Monday outside the school.
Watch WJZ's report, AFTER THE JUMP...
Pro LGBTQ students counter protest Westboro Baptist Church at Wilson High School pic.twitter.com/ObbT0x35nX

— Armando Trull (@trulldc) June 9, 2014