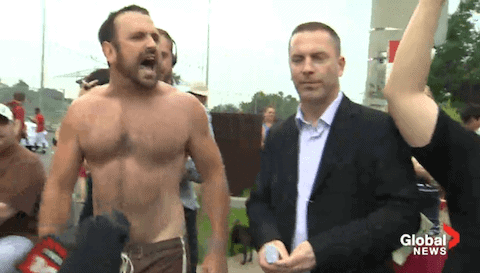 Laughing stock of Toronto Mayor Rob Ford perhaps thought his celebration of Canada Day would be an innocuous affair as he marched alongside the East York parade. Alas, it was not to be as Ford was accosted and verbally mauled by an angry jogging bear.
The jogger, a high school teacher named Joe Killoran (who, incidentally, is very LGBT-friendly), got into a shouting match with Ford, taking him to task for his lies, corruption, bigotry, homophobia, and continual evasion of questioning by the public and the media. Ford's handlers tried to shunt Killoran to the side, and one accused him of being with another campaign and having anger management issues.
While Ford's crew were unimpressed with Killoran, the Twitterverse had a decidedly different reaction, exploding with support and formenting the new hashtag #shirtlessjogger.
You can watch the encounter between Ford and Killoran, AFTER THE JUMP...