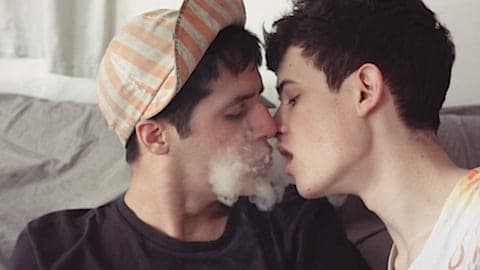 Jacob Brown's new short film "420" is straightforward, sexy, and psychedelic. A prolonged, lip-lock-filled toking session, the movie aims to promote respect and acknowledgement of a hybrid cultural niche: that of the 'homostoner'. One part homosexual, one part stoner, both parts woozy fun, the film is a fantasia acted out by a real-life couple.
Brown's Vimeo descriptions reads:
In the past few years, mainstream America has warmed to two formerly taboo trends: gay rights and marijuana. New York boyfriends Carlos Santolalla and John Tuite sit at the intersection of the two––their shared Instagram handle @jarlos420 is a showcase of their homostoner lifestyle. This video celebrates 420 and homoeroticism. "It's about how weed can act as an aphrodisiac," Santolalla explains. "A fantasy about when 'lemme hit that' becomes 'lemme hit that.'"
Enjoy the short film, AFTER THE JUMP...
(Warning: work-unfriendly)
420 from Jacob Brown on Vimeo.