A March for Equality scheduled for Saturday was canceled after authorities said they could not provide adequate protection from marchers, Human Rights First reports: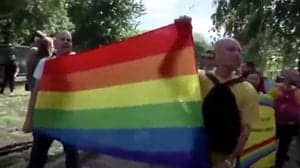 Despite months of negotiation with LGBT activists, the Kyiv authorities today said they could not protect the March for Equality scheduled for tomorrow. Organizers told Human Rights First that the march was designed as an opportunity for Ukrainians to demonstrate unity and shared values. Kyiv's first equality march took place in 2013 with police protection, and local activists hoped that once the precedent had been set this year's march would be able to take place safely.
"Kyiv Mayor Klitschko's statement that 'this is not the right time for a celebration' is a huge disappointment. He should have a better understanding of what a demand for equality is. You can't have a hierarchy of human rights," said Olena Shevchenko, co-chair of the organizing committee of Kyiv 2014 Pride. "It seems like it's never really the right time for LGBT rights."
Kiev's first such march was held in May 2013 and faced similar concerns, but police stepped in at the last minute and provided security, arresting 13 for trying to disrupt the event.