Home| Contributors
2007
Andy Towle, Founder
Andy Towle's experience in media and entertainment spans several industries. He currently writes and runs the widely-read gay news blog Towleroad. Before Towleroad, he was Editor in Chief of Genre magazine, a nationally distributed gay men's lifestyle publication, and Editor at Large for The Out Traveler, a national quarterly publication produced by LPI Media. Prior to that he was a Music Editor for Tribe Online USA, where he produced and edited a content-heavy website for an Australia-based media company. He worked in feature film development at Twentieth Century Fox for four years, assisting in the development of over thirty projects for their Feature Animation and Family Films divisions. He holds degrees in Art History and English from Vassar College, and was awarded a Wallace Stegner graduate fellowship at Stanford University, as well as two writing fellowships at The Fine Arts Work Center in Provincetown, Massachusetts. His writing has been published widely.
Jon Barrett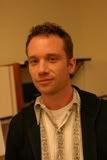 UPDATE: Jon Barrett is on sabbatical in Los Angeles as Editor of The Advocate, a monthly news magazine for homsexuals. Previously he was features director of O at Home, an Oprah magazine, and a senior editor at Cargo (where he covered the tech beat), Real Simple, and The Advocate magazines. Hes also worked as a freelance editor at People, Time Out New York, and Womens Wear Daily and is the author of Hero of Flight 93: Mark Bingham, which was published in 2002 by Alyson Books. He has a masters degree from Northwestern Universitys Medill School of Journalism and a bachelors degree in communications from Idaho State University. He lives in New York City.
.
---
Modern Tonic
Modern Tonic is a free daily email of pop-culture recommendations founded by Craig Karpel and Marc Mannino, partners in the marketing company The Karpel Group. The site, and its weekly Towleroad music column, is edited by Ari Karpel, a journalist who covers the entertainment industry for The New York Times and The Advocate, among other publications.
---
Matthew Rettenmund
Matthew Rettenmund blogs at Boy Culture. A graduate of the University of Chicago, he worked as an associate literary agent under Jane Jordan Browne at Multimedia Product Development, Inc., before moving to New York to take an editorial position at St. Martin's Press. He is the author of the popular novels Boy Culture (made into a successful feature film of the same name in 2006) and Blind Items: A (Love) Story, as well as non-fiction works like Encyclopedia Madonnica and Totally Awesome '80s. In 1998, he founded the teen-entertainment magazine Popstar!, which is still going strong today. He is currently a writer and editor living in Manhattan with his partner José and can be reached at matthewrettenmund [at] gmail-dot-com
---
Kevin Sessums
Kevin Sessums was for 14 years a contributing editor of Vanity Fair magazine and for 4 years served in the same capacity for Allure magazine. Before that he was Executive Editor of Andy Warhol's Interview magazine. His other work has appeared in Travel+Leisure, Out, Playboy, and Elle magazines. His recent memoir from St. Martins Press, Mississippi Sissy, was on the New York Times Bestseller List and nominated for a Quill Award. The trade paperback of Mississippi Sissy will be out in March from Picador. He attended the Juilliard School of Drama.
---
Kenneth Walsh
Kenneth M. Walsh is a writer and editor based in New York City. A graduate of the Walter Cronkite School of Journalism and Telecommunication, his career in media spans two decades, with reporting and editing gigs at The Arizona Republic, The Orange County Register, PRN, USA Today, Details, Us Weekly, TheStreet.com and The New York Times News Service.
He was born and raised in suburban Detroit (Madison Heights) through age 12, then grew up the rest of the way in Phoenix. As an adult he lived in Los Angeles and Washington, D.C., before settling in the Chelsea neighborhood of Manhattan in 1998.
In 2005 he began writing the blog kenneth in the (212), which has been featured on New York's famed Page Six, Entertainment Weekly and VH1's "Best Week Ever." His personal essays have appeared in Instinct magazine and he is currently working on a collection of short stories.
---
---
Michael and Andy have been business partners in Towleroad, ModUrban Media and other projects since May, 2006. In the 90s, he founded Out magazine (and out.com) after working as a magazine editor. He was editorial director of Sidewalk, Microsoft's online city guide that was later sold to Citysearch; General Manager of MSN.com; and managing partner of The Accelerator Group. He also built and folded a mobile publishing company, was Dan Gilmore's partner in launching early citizen-journalism effort, Bayosphere; has advised startups including (pre-Google) Blogger, Treehugger.com, and NowPublic.com. He's served on the Outfest and CRIA boards, was an early ACTUP member, wrote the Gaydar media column for Outweek, and more recently was the Clinton Foundation AIDS Initiative volunteer Lead in Haiti for a year. He's based in Venice, California. It's more a place for experiments than a blog, but more about Michael on Goffspot.
---