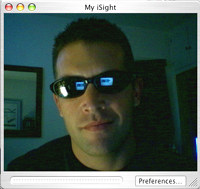 The other day I purchased Apple's Panther OSX and along with it, Apple's new iSight web cam. Having never had a web cam before I thought it would be a novel thing to chat with somebody Jetson-style. After taking it for a test run, I can definitely say that once this thing catches on, the world will be a different place, and the people that better start changing their business plans right now are the phone companies.
Not a single one of my friends has an iSight, though I have been lobbying several of them to get one so I'll at least have someone to talk to or, I should say, stick my tongue out at, on a regular basis.
iSight is compatible with AIM (AOL Instant Messenger) and iChat, so anyone with an AIM screen name or a .Mac account can participate. I googled to see if there were any communities set up for iSight users, and there were: iChatgay, and MacBuds.
I signed up, turned my iSight on, and just waited to see what would happen. Before long, someone from Germany was inviting me to chat. It was then that the conundrum struck. What am I going to say to a perfect stranger from Deutschland? I wasn't looking for sex. Are most people who want to video chat looking for sex? I didn't know. I didn't even know how to use the camera properly. So I accepted the stranger's invitation and pressed "accept" only to find my computer screen suddenly filled with a big white bratwurst, hard at work. I can only imagine what the guy saw on his screen. My face – in shock – realizing I hadn't craved German sausage so early in the morning.
AV chat is far different from simply typing sentences back and forth to someone. It's immediate, it's live, and it isn't Memorex. I ended up logging back on and talking to another cute guy from Orlando. Just talking. It freaked me out, but in a good way, and brought up some interesting issues. What do you do when there is a pause in the conversation? Just sit there and stare at each other? Weird.
But as far as meeting people goes, this will take a lot of the bullshit out of online dating. For once, you actually know what someone looks like and they can't hide behind the best picture they took of themselves, twenty pounds lighter, in 1992.
But the uses for this go far beyond "chat" as it is defined over the Internet now. This is an entirely new way of bringing the world closer together. The picture is crisp (the photo above is an actual reduced screenshot) and fluid, the audio clear as a bell. From what I knew about web cams before – the jumpy, stuttering video, the non-existent audio – the iSight is leaps and bounds ahead of that. This was like looking through a window into the other room. It also worries me a bit that devices like this are getting so compact, and so sharp. The Big Brother potential is enormous.
I want my sister to get one so I can see and talk to my niece and nephew in Montana. I want videoconferencing so I can get a bunch of friends on the phone together. I have talked to two new "friends" in Paris for hours, without a single long distance charge. I feel as if I've seen the future. Let's just hope the good people get it before the bad ones do.