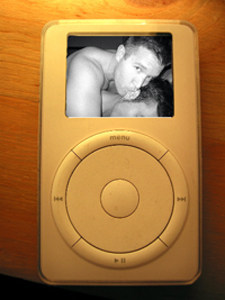 I love my iPod. It's sick how much I love it. It's one of the best things I've ever paid money for. I love it so much that I have two of them. I bought the first one the week it came out. I don't use it anymore but I'm holding on to it as a collector's item (it has a place in the museum next to my unopened mylar-wrapped copy of Madonna's "SEX"). It has a wheel that actually spins around. I guess Apple got smart and decided to do away with the whole "moving parts" thing.
So I've been transferring my enormous CD collection to this new iPod because I've decided it's time to simplify my life and get all these plastic discs out of my space. I recently finished converting all the club mixes from my CD singles and I'd like to sell them but I'm not sure the best way to go about it. I talked to Amoeba Music in Hollywood but it didn't seem like I would get much for them.
Has anybody had success at selling large amounts of CDs to a store? CD singles? Four to five hundred of them? Anybody have a good EBAY technique? Should I NOT get rid of them? Mine are mainly vocal house remixes from the last ten years, everything from Sunscreem to Chicane to Grace to Faithless to Madonna. If anyone has any advice please let me know.
In the meantime, I'll just keep on dreaming up future uses for my iPod.