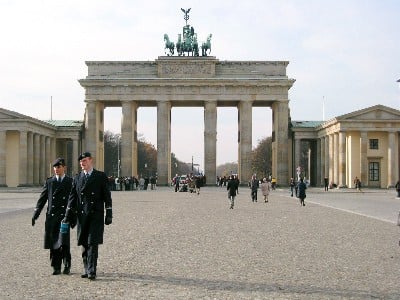 I've been thinking a lot about the magic of Berlin. One year ago this week I traveled there with photographer Joe Oppedisano to produce a fashion shoot. A year later I am still dying to return, though I think my next trip will be during the summer, and for pleasure. That is because November in Berlin, like in much of northern Europe, can be gray, chilly, and often rainy.
Berlin felt as if it were coming alive as a city. It has taken some years for the two worlds that make up Berlin, East and West, to realize that as a whole they can be greater than the sum of their parts. Sexually, the city is very liberal, and even has a gay mayor, Klaus Wowereit.
This week I'll offer a series of ten things to do in November in Berlin, based on my experience. If you have anything to add about yours, feel free to add to the comments. More as the week goes by. Here's the first.
#1 — Bed a Berliner in the Hotel Adlon.
I was there a week before Michael Jackson visited and exposed his propensity for baby dangling. Steps from the Brandenburg Gate, this historic hotel is "the best address in Berlin" according to a German date I met one night who couldn't help but squeal as he bit the luxurious pillow. It's certainly one of the finest hotels" at which I've had the pleasure to test a mattress.
Good Things from Germany:
Bears