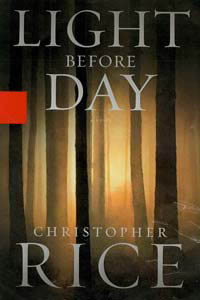 Because so many of you have asked about my next novel – alright, one of you – here is the recently approved cover image for LIGHT BEFORE DAY, which is due out in February. When I'm not blogging, I am motoring through the revisions. I have also included the jacket copy i.e. plot synopsis. Before Andy left he taught me how to hide part of a post behind a link. Now I can't seem to make it work so my apologies for the long post. (The more grateful among will see this for what it is — a towleroad exclusive.)
"Twenty-five-year old journalist Adam Murphy is chasing a career making story when is abruptly fired by the magazine that employs him. Scarred by the failure of a recent relationship, Adam finds himself cut adrift in the city of West Hollywood, when a chance encounter introduces him to the mystery novelist James Wilton, a man whose own life has been marked by bestsellerdom, fame and attempted murder.
Within days of joining Wilton's personal staff, Adam learns that his former lover seems to have vanished without a trace, and that his disappearance matches several other recent missing persons cases. Adam and Wilton join forces to determine whether or not there is a serial predator preying upon young gay men in West Hollywood. For Wilton, the investigation holds the promise of a headline-making best-seller. For Adam, it is a chance to make peace with a former lover who almost consumed his life.
But the truth is being guarded by a diabolical force that neither man could have imagined, and they explore paths of vengance, murder and sexual perversion that will lead them from the mansion-strung Hollywood Hills to the drug-ravaged plains of California's Central Valley. It is an investigation that will threaten not only their unlikely friendship, but their very lives."
You know you've arrived when the words diabolical, sexual perversion and West Hollywood appear together in your jacket copy.