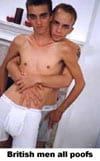 Merry olde England. "I walk down the street in the centre of Hull holding hands with my partner and have old ladies coming up to me saying 'Well done' and 'Good on you'.": Hull (more formally known as Kingston upon Hull) wants your gay dollars. Well, at least if you live in England. I'm sure they wouldn't mind some international visitors as well. The city just opened a gay "superclub" called Affinity. Hull is home to Paul Heaton of The Housemartins and boasts no cathedral unlike most larger British cities. According to the reports, it's never dull in Hull.

Nepal doesn't want your gay dollars. Though it's apparently not so dull for homos there either. Kathmandu police raided massage parlors, discos, restaurants, and gay areas in what's being described as a concerted effort by anti-gay groups to stamp out a recently energized gay movement there. Not that the Nepalese aren't used to oppression of other varieties. In 2000, a group called the Blue Diamond Society was formed to aid in HIV prevention. Their existence is now under threat as well. So, if you're thinking of escaping the Bush tyranny to go trek in Nepal, think twice about getting a massage after you scale Mt. Everest.
Closer to home, a gay "activist" seems to be fighting a one-man war in Branson Missouri, where he claims a resort has denied him discounts for an event he is producing. Gay groups are denying anything to do with the guy who seems to have stirred up this kind of trouble before. He seems to be able to attract the press though.
Cape Scare now has a competitor. Folks in the suburbs of Boston will soon be able to jet out to Ptown on demand from Bedford. Linear Airlines just announced that it will be operating 8-seater flights to the Cape and Islands.